Sustainability
Unlike man-made, chemically-produced fibers like rayon and polyester, cotton is natural, grown from the earth. Cotton farming has made huge strides toward a sustainable future in the past few decades, and it's only improving.
| Sustainable Cotton Farming
Growing any kind of crop takes the basics: land and water, but cotton growing doesn't need too much of either. In fact, U.S. cotton farmers now grow almost double the amount of cotton than they did on the same amount of land in 1980, leading to a 30% reduction in land use. Soil erosion has also decreased by 68% using modern farming techniques.
As for water, did you know that most of U.S. cotton is grown using only rainfall? And half of the global cotton crop also relies solely on rainfall. In fact, only 3% of the world's agricultural water is used to grow cotton. Because cotton is a heat- and drought-resistant crop, it doesn't always need to be irrigated in order to grow into the fiber we use and love. In fact, it takes more water to grow an acre of regular lawn grass than it takes to grow an acre of cotton.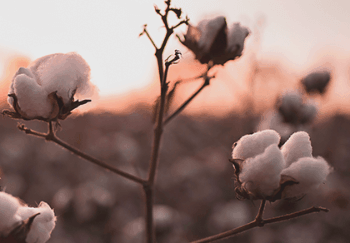 Processing the Entire Cotton Plant
While modern farming techniques have improved the farming process, the cotton industry has discovered ways to use more than just the fiber. Now, the entire cotton plant can be used, not just the fluffy boll. Cottonseed becomes a high-quality cow feed, or is pressed into oil for cooking, cosmetics, and soap. Even the cotton "burr," the seeds, leaves, stems, and hulls of the plant, is used for mulch, and can also be made into biodegradable packaging.
31% Decrease in Energy Use
It takes 31% less energy to make a cotton t-shirt than it took 30 years ago.* Also, processing cotton requires less energy than processing other fibers, like man-made polyester and rayon. Cotton uses sunlight and converts it to a fiber without intermediate processing steps.
*Source: Field to Market (2012 V2). Environmental and Socioeconomic Indicators for Measuring Outcomes of On-Farm Agricultural Production in the United States: Second Report, (Version 2), December 2012. Available at: www.fieldtomarket.org.
| Cotton's Impact on the Environment
100% cotton is biodegradable and returns to the soil, enriching it. On the other hand, synthetic fibers like polyester cannot break down, which causes them to release heavy metals and other additives into the soil and groundwater.