How To Pack For a Weekend At The Beach
If the mountains and the city aren't calling your name this long weekend, maybe it's the warm sand and the sounds of the ocean that are. In that case, schmear on that sunblock, dig up those sunglasses and start your beach getaway checklist.
Before you start filling up that suitcase meant for a month long sabbatical, see our guide for how to pack everything you need in a small carry-on. Pro-tip - stick to a nautical color scheme perfect for mixing and matching, day to night. Think blues, creams and whites.
What to pack for Friday:
Her
Day: Whether you're heading out on a plane, train or automobile, be ready for your trip- without looking like you rolled out of bed- by rocking a great jean skirt paired with a cute jersey tank top and flops. Grab that breathable, slouchy lightweight sweater for when the temperature isn't in your control.
Night: Put on a fresh tank and change out the skirt for a pair of white jeans (They match ev-er-y-th-ing)for a nighttime stroll along the water. Ditch the flops for the perfect summer wedges. The versatility of one pair of jeans can save you from packing multiple long pants and can be worn each night without feeling like you're outfit repeating.
Him:
Day: Ditch the sweatpants and go for a pair of joggers instead- great for travel and sunrise strolls along the water. Worried you're sacrificing comfort? By wearing cotton, your clothes will be soft to the touch, regardless if it's pajama pants or structured shorts. Look and feel relaxed during your trip down with a laid-back button down short sleeve shirt with a great summer print. You'll be wasting away in Margaritaville before you know it.
Night: Pair khakis with a chambray button down and a light knit striped sweater for the ultimate beach look. Cuff up the bottoms, forgo socks and take advantage of those warm nights with a leisurely walk on the sand with your date.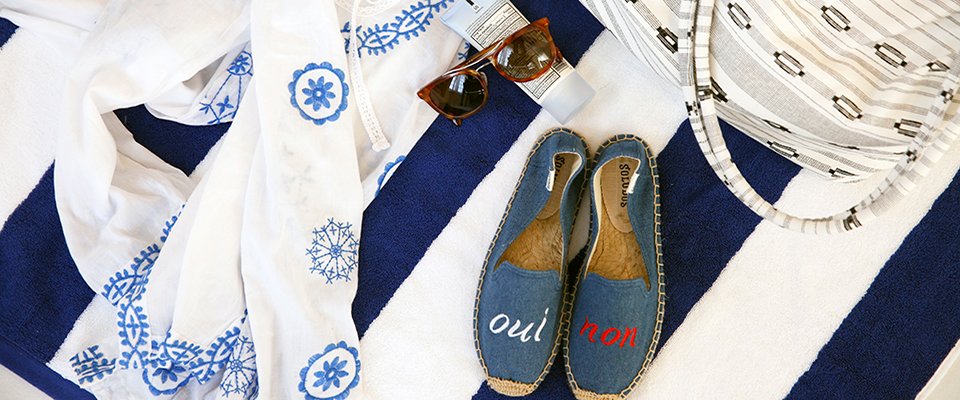 What to pack for Saturday:
Her
Day: You'll need your bathing suit, a big absorbent towel and a hat. Packing cotton or canvas sandals will keep your feet from throbbing and will last you longer than those dollar-rubber flip flops. Keep your change of clothes and a beach read in your tote bag. A roomy canvas tote is key to bring during your beach time, since it's durable enough to hold all of your daytime essentials and it's easy to clean after it's covered in sand and suntan lotion. For the trips to the concession stand, you'll need a cover up that won't have you suffocating under the sun. Bonus: A great cover-up/sundress won't take up too much real estate in that suitcase.
Night: For anyone eating on the boardwalk, without time to get changed, take out that cute jean skirt you packed and add a tunic to maintain comfort with dress code. To avoid the dreaded static cling from your top, make it's cotton. Stay away from nylon or polyester items that are more prone to that fabric fail. With cotton, you're basically guaranteed that picturesque flow of your top in the wind.
Him
Day: Forget those barbecue stains or greasy sunscreen stains, a simple cotton tank top can easily be thrown in the wash without worry when you return from your getaway. Don't forget to bring the towel and the flat sheet to lay on, eat on or sprawl out like a starfish in the sun. Wear those day one joggers for max comfort.
Night: Throw on a blazer to get your outfit dinner ready. No one wants to be sweating through a wool or tweed jacket so make sure it's a lighter cotton. Keeping cool while looking cool is as easy as that. Paired with your khakis from the last night and a fresh shirt, you have yourself a nice night out look.
What to pack for Sunday:
Her
Day: Travel home in the jeans from night one,paired with the tunic from last night. Have your jacket handy for whatever the weather brings you.
Him
Day: Put on the day one cargos with a fresh t-shirt. Then pop on a light, breathable hoodie for when the convertible top goes down or when the AC is blasting.
Make sure to visit those boardwalk shops before you leave. Getting a local souvenir like an oversized t-shirt and making it your own can be a great wear for the trip home as well.
Take a look at the collection below for your entire packing list.