How To Dress For An Interview
Nervous about that an upcoming job interview? We hear you. The pressure is on, so the last thing on your mind should be what you're wearing. Cotton is here to help you make a good first impression.
Choosing a breathable fabric like cotton can help with that sweat inducing, nerve-wracking first meeting with HR. Feeling good translates to looking good. A soft, high quality fabric is a no-brainer choice for your interview ensemble. From your underwear to your outerwear, the comfort of cotton can help ease some tension during those hectic meetings. And to top it off, cotton can't hold an electric charge, meaning no clingy fabric fails. Convinced yet?
See below for great looks for your interview style, whether it's for a formal office or a casual environment. Don't know which it is? No worries. Just ask HR beforehand.
Women's Corporate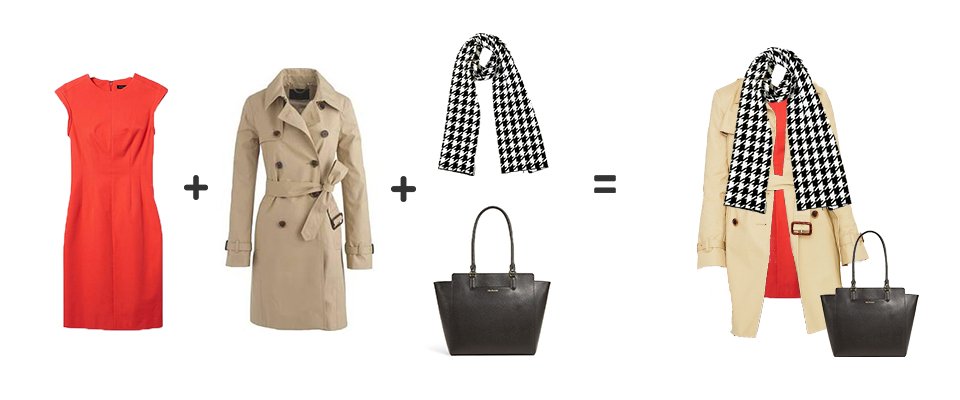 The Look: dress, trench, scarf
The good news about a corporate office? We've come a long way from ill-fitting pant suits with shoulder pads! Just look at Amal Clooney. The activist and lawyer (who gets to strut around with George Clooney as arm candy - lucky girl) has shown the world that you can be professional and fashionable. Her bright long dresses and coordinating double-breasted coats redefine what it means to be a boss. With classic and sophisticated silhouettes, well-fitting clothes are a must. Try to channel her amazing sense of style for work appropriate pieces. Your interviewer will be meeting with a sea of people wearing every shade of grey. Give them something to remember you by (besides your intellect of course!). Go for a colored dress to leave a lasting impression and pair it with a classic trench, appropriate for almost all weather conditions.
Love the look? Scroll over the image to see where to buy.

Men's Corporate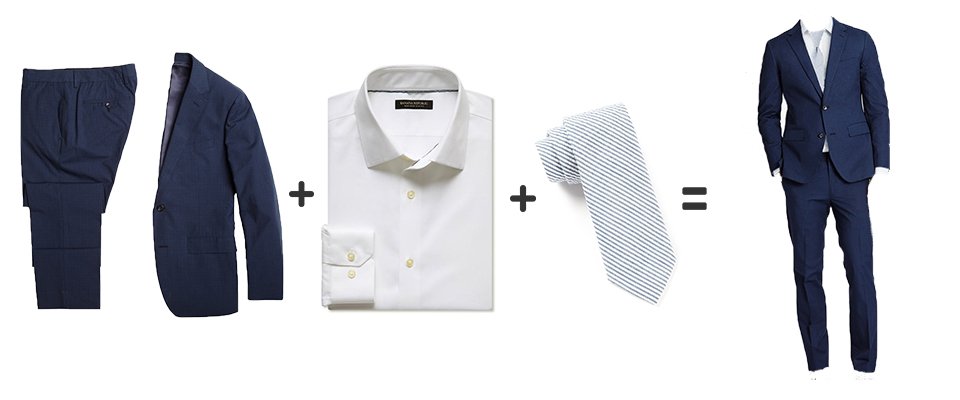 Regardless of the office, men's interviewing style skews towards the traditional. Your very first impression will be determined by the sharpness of the pant crease and shirt-- so ironing lessons from mom is probably needed (or perhaps maybe just a wrinkle-free shirt). Shirt collar won't behave? Try this tip from AskMen: dampen the collar with water and then use a hair iron to smooth out any wrinkles. A jacket is usually mandatory in a conservatively dressed office so make sure it's void of creases, unsightly stains and that "X" thread on your jacket vent is removed!

Finding the right fitting jacket in store is also crucial. To find a good fit, first stand naturally and check to see that the shoulder seam sits where the arm connects to the torso (without puckering or hanging over the edge). Next, button a single button and make sure there are no creases emanating from the button. Then, make sure your sleeve ends about a half inch from your wrist. Finally, check that the jacket length ends at the halfway mark of your butt- where it begins to curve back towards your leg. You can thank AskMen for the excellent advice.
What's great about this versatile cotton suit is that you can mix and match with other items in your closet to wear on the job once you nail the interview. Need some inspiration?
Women's Casual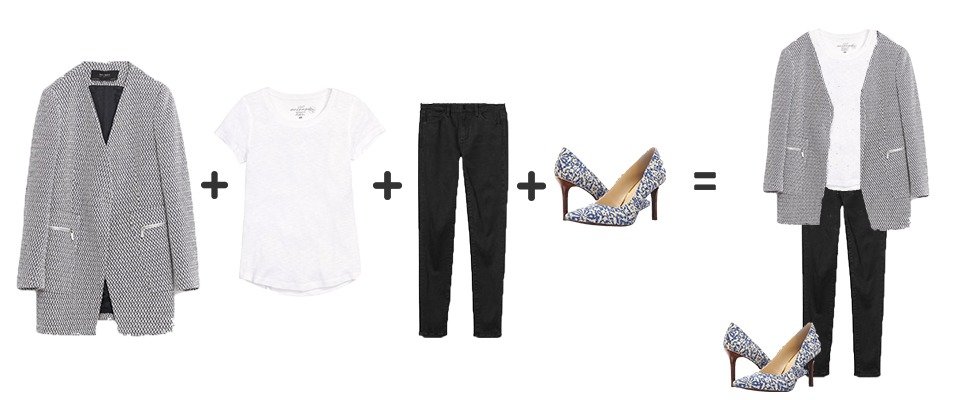 The Look: blazer, top, pants heels
Casual and often creative environments (we're talking to you, start-ups and creative agencies) call for the ultimate relaxed wardrobe where dressing up usually is cause for suspicion (insert whispering at the water cooler about Bob interviewing for a new job). We're not kidding. Refined cool is very common but before you worry about what to wear every day, you need to get that job and even before that, you need to dress for the interview. Still dress to impress but let your personality shine through to show that you'll fit into the laid back culture. No matter where you are interviewing, it's important to be yourself.
We recommend a collarless blazer (you rule-breaker) paired with black jeans (yes, jeans), a white tee, and these heels for a pop of excitement!
Men's Casual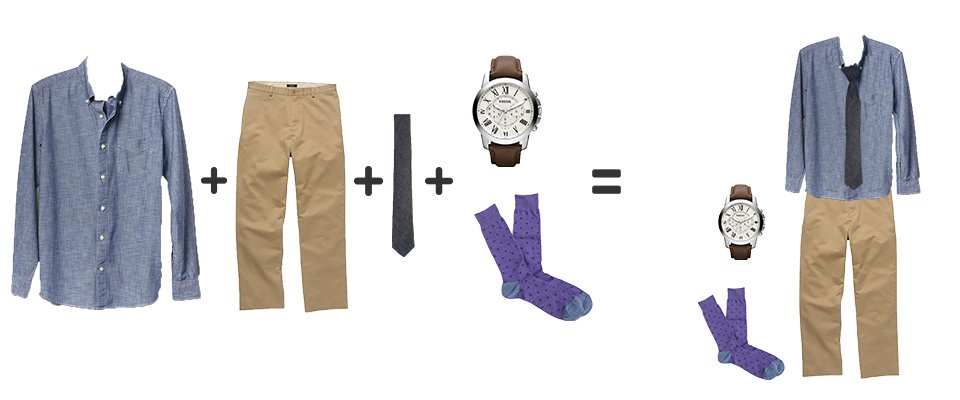 The Look: khakis, shirt, tie, socks
A more casual environment leaves room to be more liberal with your choices. A fresh khaki gives the message that you were intentional with your choices without mistaking the environment for a more formal one. Khaki's are a traditional cotton staple that work for anyone from a middle-aged dad to an out-of-college hipster. The thickness of the fabric gives you structure and are durable, plus the classic color matches everything. For your shirt, feel free to choose a chambray to show that you're in with the current trends. It's still a button-down so you don't have to be concerned with coming off sloppy. A tie isn't necessary but it may have the employer take you more seriously- plus, who doesn't look better in a tie? It elevates the outfit and brings it all together.
Want to really show your personality without potentially harming your chances of landing the gig? Go for a bright and bold pair of socks.
Once you nail that job, go for the classic polo and a dark wash jean for a crisp casual look.