What to Wear to Summer Weddings
Image via TheKnot.com
Summer means it is fully wedding season time. This means that it's time to brush up on those hard and fast rules about dressing for a wedding. Don't worry though, we're here to help you sort through these age-old principles so you can focus on what really matters: the dancing.
Women
Thanks to social media, it's harder and harder to get away with wearing the same dress within the same season. Not everyone can afford a new gown for each affair, so it's important when picking out the dresses you will wear to stick to some rules of thumb:
-Let's start with the obvious: don't wear white. We know it's easier said than done since stores are stocked with so many white/off-white options during this time of year, but cross it out with a big red pen.
-Steer away from solid colored chiffon or satin dresses to avoid the possibility of matching a bridesmaid.
-A good alternative is prints, though choose a print that is not too bold. The last thing you should be is the center of attention at a wedding.
-Regardless of the season, black is always a great go-to. Investing in a classic LBD, as opposed to a super trendy dress, gives you more versatility and the ability to dress it up or down depending on the wedding theme.
Now that you know the color, it's time to think about the style, silhouette and fiber. It's important to avoid the whole dress sticking to your underwear fail that can happen with synthetic fabrics like polyester or nylon. It's embarrassing and can easily be avoided by simply wearing a fabric that doesn't hold a static charge like cotton. So be mindful when choosing great styles to also take a minute to see what that great style is made out of (both the dress and the lining)!
Take a moment to Google the venue. If it's a church, temple or any other religious sanctuary, you'll want to cover your shoulders and/or kneecaps- at least for the ceremony. If the wedding is at a fancy location (even if the invite doesn't specify black tie) it's better to be overdressed than underdressed. Think gown, not cocktail dress.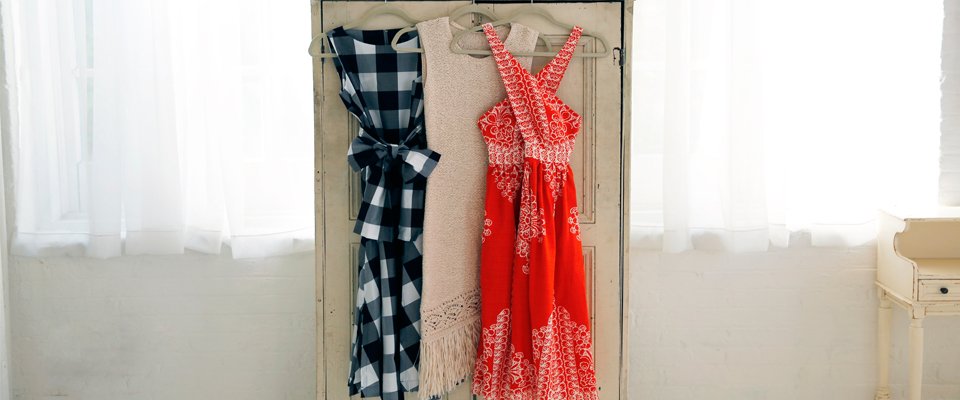 Scroll over the dresses above to shop.
Men
We get it, men. You're not going to buy a brand new suit for every wedding you attend. You have the ability of being able to outfit repeat without getting caught. Lucky you. But, this also puts added pressure to make sure the pieces you do buy will last you the long haul.
You might be perspiring at the thought of wearing a jacket to a summer wedding but what if we told you there are summer suits that actually breathe? There are options outside of a light-weight wool. Don't be so shocked. A cotton suit has the breathability to keep you cool. So go ahead and strip off that jacket because you want to break out "The Worm," not because you're overheating.
Now that you know the suit you'll wear, it's on to the shirts and ties. These are your statement pieces so make them count at each affair. Mix and match patterns and colors to create entirely new looks. You'd be surprised how well a subtly patterned paisley tie can go with a striped shirt in the same color scheme. So, if your shirt is pink, consider a patterned tie that has accents of that same pink shade to really pull the two pieces together.
Find a button down that doesn't require an ironing board everytime it comes off the hanger by looking for wrinkle-free cotton shirts. Bonus: You can throw it in the wash after you get home without thinking about it twice.
For more casual affairs, opt for chinos and a sport coat (which is another great versatile piece for your closet). Don't want to fuss with a jacket but want a bit of flair? Try a bow tie or suspenders instead.

What are your go-to wedding guest dress code rules to live by? Tweet them to us @DiscoverCotton