New York Fashion Week Meets Cotton: Shop the Runway Trends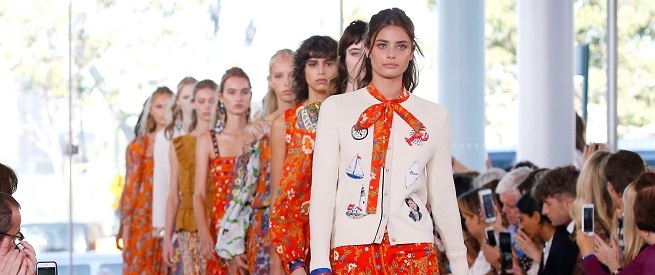 A couple times a year, designers and brands are get ready to display their new fashion lines to the world. It's the perfect opportunity to see new styles, trends, and fabulous clothes from your favorite designers, styles that will end up in stores before you know it!
To get in the spirit of Fashion Week, we're showcasing our own fashion lines: cotton's, that is. On this virtual runway, we've curated our own "Cotton Fashion Week" collections, suitable for every occasion. First, there's the Style Line, cotton clothing that reflects the newest trends of 2017. Next, there's the Workwear line, clothing that will keep you feeling comfortable and looking professional at work. There's also the Classic Line, clothing with timeless patterns and silhouettes to achieve a look that will never go out of style. Of course, there's our Athleisure line, because cotton clothing is nothing if not comfortable! Lastly, our Evening Line, clothing that's ideal for date nights, and going out! All of these collections showcase the best trends we've seen on the runway the past week, decoded for you to shop right now. Welcome to Cotton Fashion Week.
Image via Youtube
Style Line

The Style Line of Cotton Fashion Week is all about embellishments, denim dresses, off-the-shoulder tops, and asymmetrical hems. At New York Fashion Week, we saw embroidery dominate, as well as boho silhouettes and a Western-style look that's easy to pull off with the right jeans. Cotton has you covered in every arena, from soft jersey knit dresses to tough denim, and everything in between.
Workwear Line

Work clothes don't have to be boring! In our Workwear Line, you'll find the traditional button-downs, blazers, and trousers, but with exciting colors and patterns that will definitely make you look forward to dressing for work in the morning! Button-down shirts with "architectural" sleeves were well-represented on the runway, turning an old classic into a new favorite! As an added bonus, cotton breathes and washes cleaner, meaning a less stressful workday and less effort doing your laundry.

Classic Line

Full skirts, polka dots, floral prints, and more dominate our Classic Line, for the woman who is drawn to that timeless look. New York Fashion Week saw the continuation of color block accessories with bold, primary colors, a perfect way to infuse a classic look with a little bit of trendiness! Cotton is sturdy and long-lasting, meaning you can wear your favorite dress for years.

Athleisure Line

There's nothing like a great pair of leggings, whether you're lounging at home, running errands, going to work or heading to the gym. On the runway, we saw that the athleisure trend is not going anywhere, and this season, it's all about "upscale" athleisure. The Athleisure Line is full of cotton-rich comfortable clothes that release odors, keep you cool, and wash cleaner than other fabrics, making it the perfect choice for your athletic wear, even if you're just hanging out at home!

Evening Line

Have a date? Cotton keeps you cool. Going dancing? Cotton breathes. The Evening Line is specially curated to make you feel confident, stylish, and comfortable during your night out. This line incorporates the trends we've seen on the runway this season, from irregular hems to a continuation of the Victoriana trend!

Like our picks? Hashtag #CottonFashionWeek on Instagram so we can see your style!