New York Fashion Week: 6 Trends to Wear Now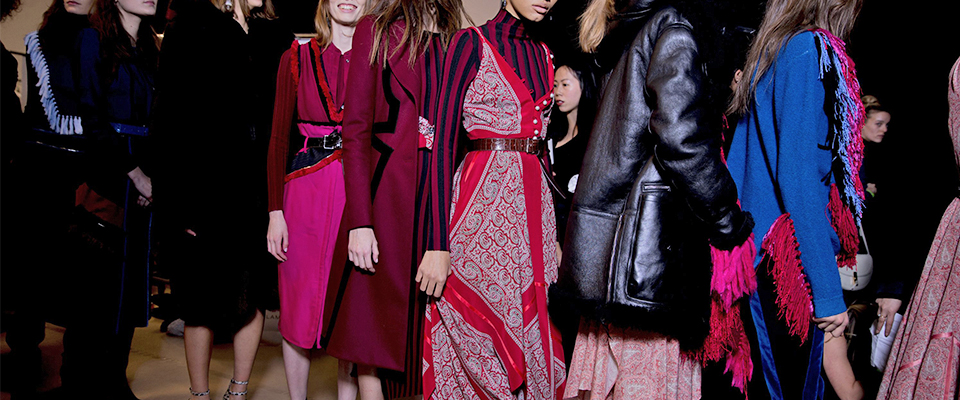 Image via Vogue
The style whirlwind that is New York Fashion Week ends today, and what a week it was. The best and brightest designers presented a mix of vintage nostalgia, refined elegance, deconstructed luxury, and impossibly cool ensembles that will keep us inspired through the rest of the winter season. But with all these colors, cuts, and trends, it's easy to get overwhelmed - how on Earth do you take all those runway looks and make them everyday friendly?
The key is to distill Fashion Week down to its major trends. While each designer adds their own unique flavor to their collection, the fashion cycle still dictates what seasonally ties these designs together. And even though the week's looks seem wildly different, they all have one thing in common: they can all be easily integrated into your winter wardrobe with effortlessly versatile cotton pieces. Take a look at the curated shop collection below.
90's Grunge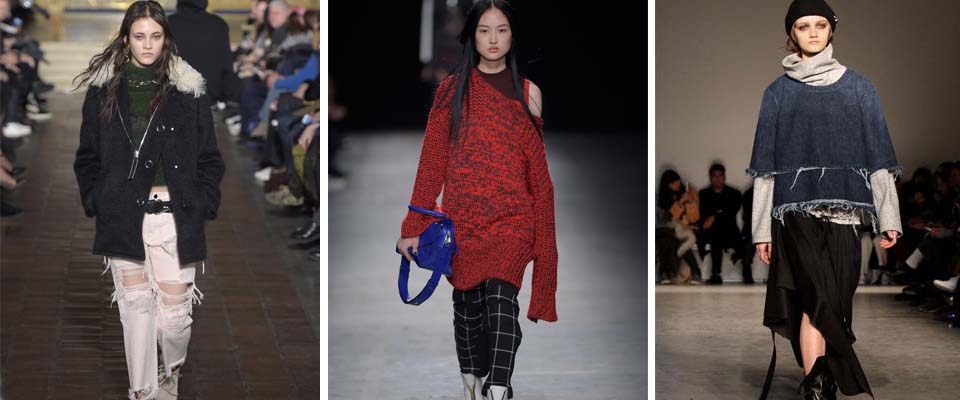 Looks from (L-R) Alexander Wang, Rag & Bone, Public School; all images via WWD. Shop similar cotton items: Shortie Anorak Jacket, Ripped Jeans, Flannel Shirt.
Blame it on the millennial wave finally coming of age and yearning for their childhoods - the 90s are officially back. Hints of the decade have been sprinkled through collections for a few seasons now, but this week saw the style take center stage. The runways were overtaken with oversized tops, deconstructed denim, and slouchy silhouettes that looked as comfy as they were cool.
Mastering this trend is all about the quality of material - otherwise you risk simply looking cheap rather than chic. Think Wayne's World meets Clueless: slim ripped denim pairs well with an oversized cotton flannel, while a droopy knit can be feminized with a cool drapey skirt. Keep it casual with a great pair of flats, boots, or sneakers and dust off that 90s slang dictionary (Ugh, as if!).
70's Glamour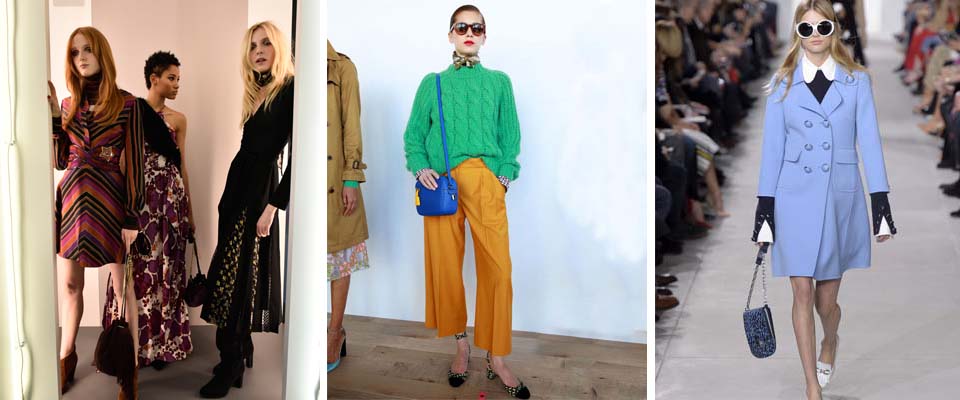 Looks from (L-R) DVF, J.Crew, Michael Kors; all images via WWD. Shop similar cotton items: Culottes, Printed Jacket, Bell Sleeve Dress.
If the 90s were the headliner of Fashion Week, the 70s were the supporting act. Glamorous looks a la Jane Birkin and Brigitte Bardot merged with a 21st sense of sensibility and utility in the ready-to-wear collections of designers like Diane von Furstenberg. The trend saw a reintroduction of the cinched waistline, swinging fringe, and a return to color - even in the depths of winter.
The best part of this trend is how incredibly fun it is to mix and match the great colors and prints that ruled the 70s wardrobe. Paisley and florals find their way back into your cold-weather outfits, and bright yellows and pinks liven up workwear and formalwear. Luckily, the mystery fabrics of the 70s can stay in the 70s. Cotton holds color and won't get faded in the wash. Don't be afraid to really push the limits of glamour and pair these looks with some cat-eyes or rounded heels.
Feminine Silhouettes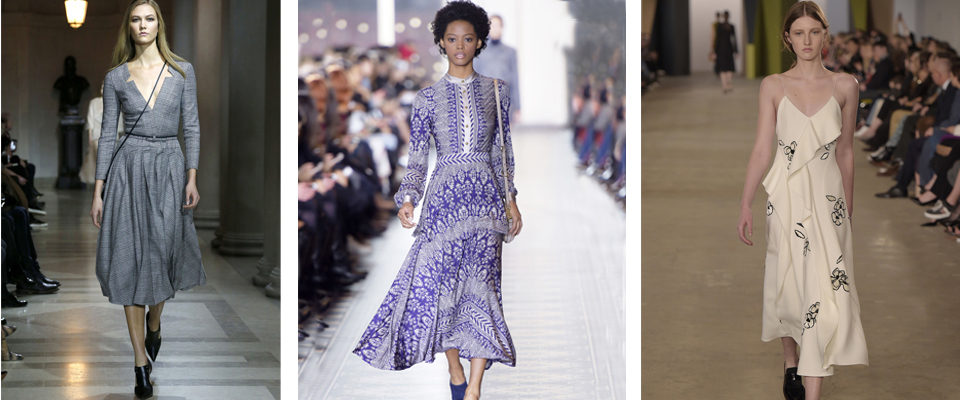 Looks from Carolina Herrera, Tory Burch, Boss; all images via WWD. Shop similar cotton items: Maxi, A-Line Skirt, Ruffled Button-Up.
Recent fashion weeks saw drop waists and menswear-inspired looks rule the runway - but not this year. Designers fully embraced the female form with elegantly draped, body skimming pieces that are ultra-feminine and flirty. Once again, we see designers not shying away from colors and cuts that are traditionally seen in the spring or summer, instead focusing on year-round functionality.
Stock up on long dresses with hemlines short of maxi-length and high-waisted skirts to pair with frilly patterned blouses. The look is easily dressed down by adding a blazer to play up a masculine-feminine tension, or a chunky cardigan to tease the polished look with a grunge element.

Victorian Gothic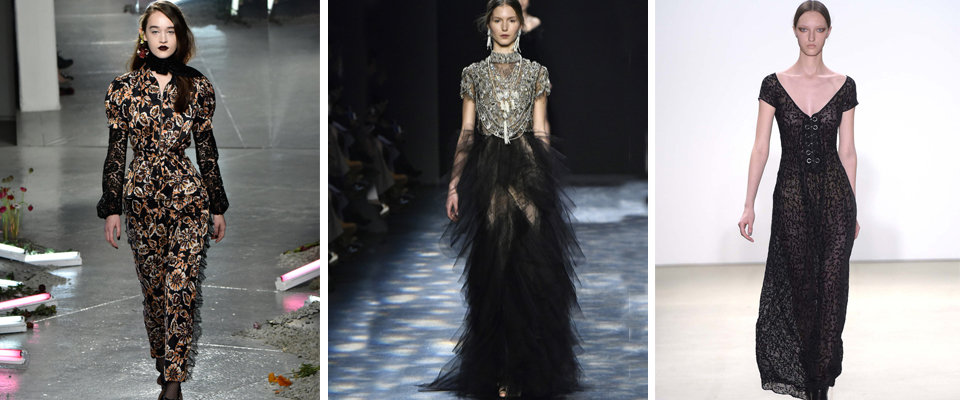 Looks from (L-R) Rodarte, Marchesa Yigal Azrouel; images via WWD. Shop similar cotton items: Full Skirted Dress, Toile de Jouy-Print Jacket, Jacquard Trousers.
The ultimate height of luxury is embodied in the Victorian details of Fashion Week's pieces. But this time around they received a gothic twist, making the otherwise impossibly girly embellishments of ornate gowns far more edgy, interesting, and dark. This trend is all about extremes - there is no such thing as over the top or too much, and the heavier and richer the better.
For the day-to-day wardrobe, this may seem all too much, but it is all about paying homage to the trend while remaining within your personal style. Delicate cotton lace paired with an embroidered blazer spices up any workwear look, while eveningwear strays from the norm with subtle details that add texture and intrigue to dark formal pieces.
Unexpected Layering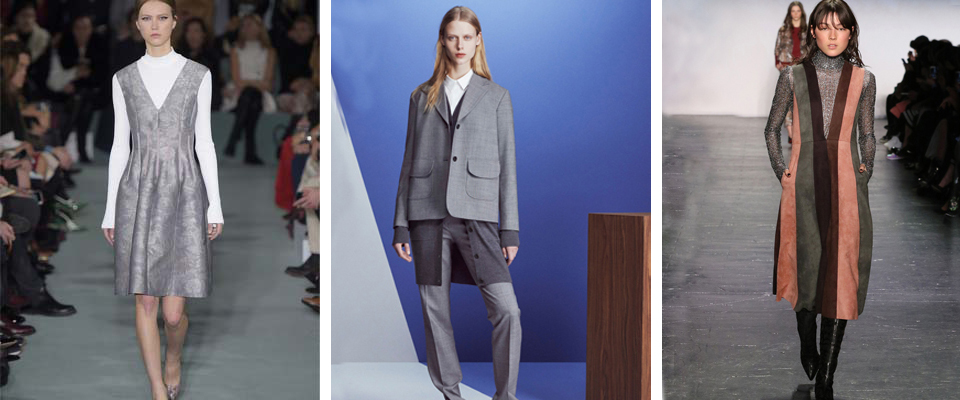 Looks from Oscar de la Renta, Jil Sander, Vivienne Tam; images via WWD. Shop similar cotton items: Cardigan, Ribbed Knit Dress, Tissue T-Neck.
Yeah, yeah, winter layering is a no brainer - we even wrote an article about it. Yet the greatest design challenge is making the expected new and exciting, and designers did just that with layering this season. Turtlenecks were peeking out from under fabulous dresses and sweaters were worn under rather than over pieces.
Proportion is the key to artful layering - a thick sweater paired with a thick dress will make you look, well, thick. Play around with the many cotton knitwear available to build a coherent outfit that is unique and totally you (bonus: you won't overheat thanks to cotton's breathability). We particularly loved how slim pullovers transitioned flowy slip dresses from summer staples to winter musts. This look will be key in our spring transition!

Back to Nature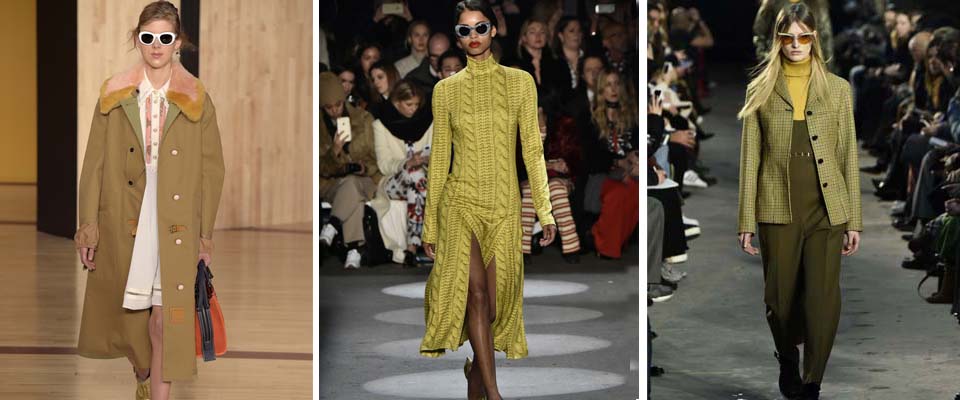 Looks from Coach, Christian Siriano, 3.1 Phillip Lim; images via WWD. Shop similar cotton items: Henley Sweater, Fleet Jacket, Trousers with Bow.
Khaki, tan, and mustard yellow were the color winners for Fashion Week. Influenced by the vintage inspiration many designers drew from, the coherent color story was the tying thread in many collections. Its versatility was showcased in its use from the most luxurious of gowns, to the most dressed down of grunge, which means it can fit into literally every closet.
Khaki jackets are the grunge coat for winter, and now come in refined cuts that take them away from their army roots. Mustard yellow found its way into knits and dresses, but can make any pant pop. And the widespread usability of tan makes it the easiest of go-to colors to give your outfit a grown-up boost. Keep those colors vibrant by taking care of your cotton staples with our care tips!
Any trends we missed? Chat with us on Twitter at @DiscoverCotton!