How Pregnancy Inspired Ariane Goldman to Launch Hatch, a Chic Pre-Natal, Pregnancy, and Post-Birth Clothing Line
With Mother's Day just around the corner, we've had mom on our minds a lot. While we were putting together a gift guide recently, we quickly realized that there was a lack of inspiration in the clothing category for expectant and new moms, especially when it comes to clothing made from natural fibers. A must when it's hot - the last thing anyone wants are fabrics sticking or clinging to you.
We recently became friends with Ariane Goldman, an inspiring woman that created a line of clothing with an effortless and understated-chic execution that can take women through multiple phases of pregnancy. Her collection, HATCH, was created with one simple thought in mind: "Your style should be your companion through it all, effortless through everything." And the newly launched summer collection does not disappoint. After stumbling upon a cotton hand looming studio during a recent trip to Morocco, she "gravitated towards the breathable, refined-washed cottons" and to the store's owner, who happened to be in the fabric business.
What better way to truly celebrate Mother's Day than sitting down with someone whose business was inspired by becoming a mother herself!
What prompted you to start a clothing line specifically for moms?
My own desperation... I couldn't find anything that made me feel like myself and that I was excited to wear. Women have to struggle to understand how to fit a new body during pregnancy, and your style changes a little once you have kids too, so I wanted them to have options that still felt exciting and fit well.
How do a woman's needs change from pre-natal, pregnancy, and post-birth?
I think everyone is different, but your body just changes so much. You spend a couple/few decades learning what works best on your shape and then it all somewhat becomes out of your control when you are pregnant, so anything that feels more forgiving and flattering is crucial. At the end of pregnancy, you just want to show off the bump, which is why we designed our BODY collection of fitted essentials, and post-birth, I think the biggest struggle is probably nursing, so we think about that constantly when designing our tops and dresses.
What inspires the style choices for Hatch?
So many things... This summer's Plage collection was definitely inspired by Marrakech and its artistry. I went there on a personal trip and met Randall Bachner, an amazing artist, photographer and weaver, and we ended up collaborating on this summer collection with a range of handloomed cottons and gauzes that feel very Moroccan, but stick to the shapes that I know the HATCH customer really appreciates.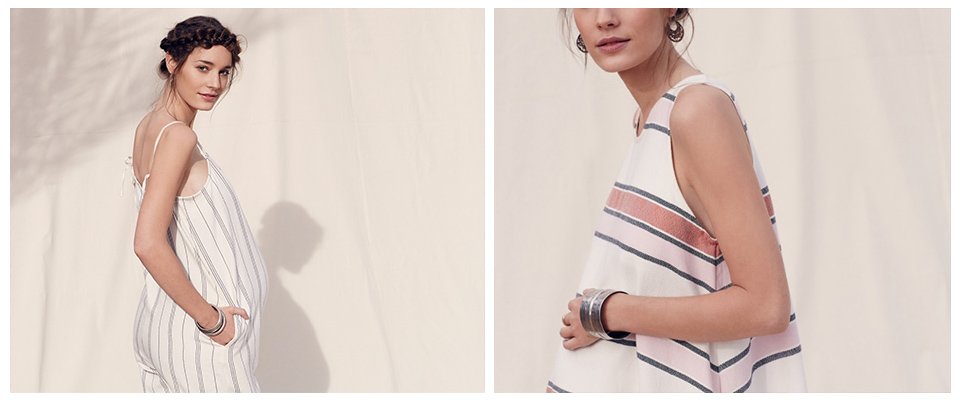 How does your fabric choice influence the brand aesthetic?
The brand aesthetic is so strong - so many of our shapes are evergreen - which provides a wonderful foundation to explore and play. Every season I try to bring new texture and color to the table, as those are the pieces that make a design feel special to me. Cottons are particularly important to our assortment because jerseys and gauzes end up being the most comfortable fabrics in the transitional seasons, and offer a bit of levity when things don't feel as 'light' as they could.

This collection has a bigger focus on cotton-rich items. What shifted?
Our Plage summer collection always focuses on gauze and light, airy cottons, as those are the most practical solutions for packing and summer vacations, and also the most durable and reliable when our customers look to these shapes to wear and wash again and again throughout the season. It seemed like fate to stumble upon Randall Bachner's cotton hand looming studio on a personal visit to Morocco - the pieces feel truly special, even as they are the easiest and most effortless to wear.
How does cotton address the needs of moms?
It's obviously great to have a fabric that's so easy to throw in a bag and to wash - every mom knows how much your clothes take throughout the day - and beyond that, it provides a really rich structure for our silhouettes, so that we can make things that are breezy and comfy, but still have shape and style.
What are your go-to pieces for Spring and Summer?
I'm a huge fan of the Caza and Ibis dresses to hit the road. They're made of this beautiful handloomed cotton that is the easiest thing to throw in a bag and they work perfectly for a beach coverup or a dress to go out shopping. With the right shape, it just becomes about the shoes and jewelry. Those are the only choices I have to make. The clothes feel effortless.
What is your number one piece of advice for first-time moms?
Don't be hard on yourself. There is no perfect way of parenting and each child is different. Have fun with the unknown, embrace the madness, and enjoy the moment as it passes too quickly.
What sets HATCH apart from other brands in the category?
We're solving problems and enabling women to feel their best self during a period of change. It is such a special moment in life and our style should be able to reflect that excitement. HATCH provides these pieces, to invest in, for this moment and beyond.